We took a ride along Sunderland Hill Road today which runs parallel to Route 7A from Manchester into Arlington. We passed several farms and old barns –  many of which we will revisit as we anticipate some wonderful sunrises and sunsets over the not too distant mountains.
Then we discovered the Chiselville Bridge. The name Chiselville comes from a former chisel factory nearby, but the bridge was previously named High Bridge and The Roaring Branch Bridge. It spans the Roaring Branch Brook and was built by Daniel Oatman in 1870. At the time the cost to build this bridge was $2,307.31 including the builders fee. It survived the flood of 1927, which destroyed hundreds of Vermont covered bridges. It appears that the strategic placement of this bridge allowed the flooded Roaring Branch Brook to pass harmlessly underneath.
Chiselville Bridge – Sunderland Vermont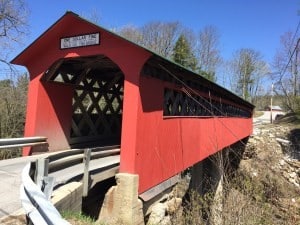 The sign reads "One Dollar fine for driving faster than a walk on this bridge." MaryAnn got out and walked to make sure I didn't incur the fine.
MaryAnn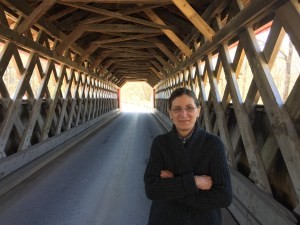 Into Arlington – a stones throw from 7A is the Arlington Train Station and the American Legion Post's Tank – I don't know what type of tank that is, but I will find out and update the blog down the road.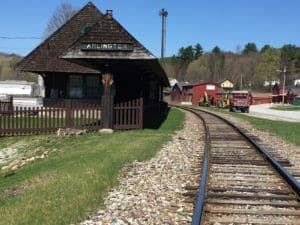 American Legion Post 69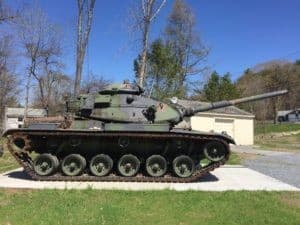 Arlington Vermont – Train Station
Earlier in the day I completed painting the hammock frame.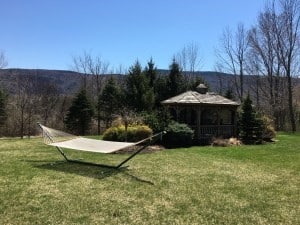 Hammock ready for Spring
While we were out we received photographic evidence that our housekeeper Candi was lying down on the job.