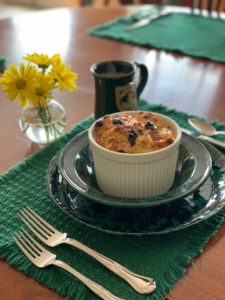 Serves 6 using 16 ounce ramekins
I love to experiment with different glazes and filings – I will sometimes chop and mash bananas and add with the raisin, too. Or glaze with Bananas foster. Try it, you'll like it!
Here is my basic recipe.
Preheat the oven to 350 degrees – I set the rack to the lower third of the oven. Prepare the ramekins by lightly buttering them and put off to the side. Also, I use a baking sheet to place the ramekins onto when later putting them into the oven.
Ingredients for the Pudding
12 tbls unsalted butter
1 and 1/2 lbs of either challah or french brioche cut into 1 inch cubes
2 cups of heavy cream
2 cups of milk
3 teaspoons of vanilla
1/2 cup of granulated sugar
1 cup packed light-brown sugar
1 cup of golden raisins
6 large eggs – beat lightly
Ingredients for the Glaze
4 tbls unsalted butter
2 tbls of Bourbon
1/2 cup of heavy cream
1 cup powdered (confectioner's) sugar
Preparing the Pudding
Pour the cream and milk over the bread in a large bowl to soak –

set aside and maintain at room temperature

Melt the butter over medium heat in a medium sauce pan

Remove from heat
add vanilla and both sugars
Stir until smooth

Whisk the eggs in a medium bowl

Whisk in the butter mixture until well combined and smooth
Add raisins
Pour over bread and toss until well combined

Divide the bread mixture into the ramekins

Place the six ramekins onto a rimmed baking sheet.
Cover with parchment and aluminum foil and bake for 20 minutes.
Remove the foil and parchment, continue cooking for about 20 to 30  minutes more or until golden brown.
Making the Glaze
Melt the butter over medium heat in a medium sauce pan

Remove from heat
add bourbon and powdered sugar
Add cream and mix smooth
Serving the Bread Pudding 
Remove the bread pudding from the oven and lightly pour the bourbon glaze over the pudding. Serve warm.
I will prepare this when we have up to 6 or less for breakfast (adjusting the measurement as appropriate). It takes about 40 minutes to cook and we aim to have it ready by 8:30.
BREAKFAST AT THE INN
Most days we serve breakfast between 8:30 and 9:30 and prepare the entrees individually as guests come down. So, when we do this fabulous bread pudding I let them know the night before the breakfast schedule. We serve a parfait consisting of blueberries and strawberries, yogurt (that's mixed with Vermont maple syrup, topped with the Inn's homemade granola before the breakfast entree.
We make this fresh, but you can make this ahead of time. Cover tightly and refrigerate for up to 4 days. Reheat – its delicious and I promise to not tell.