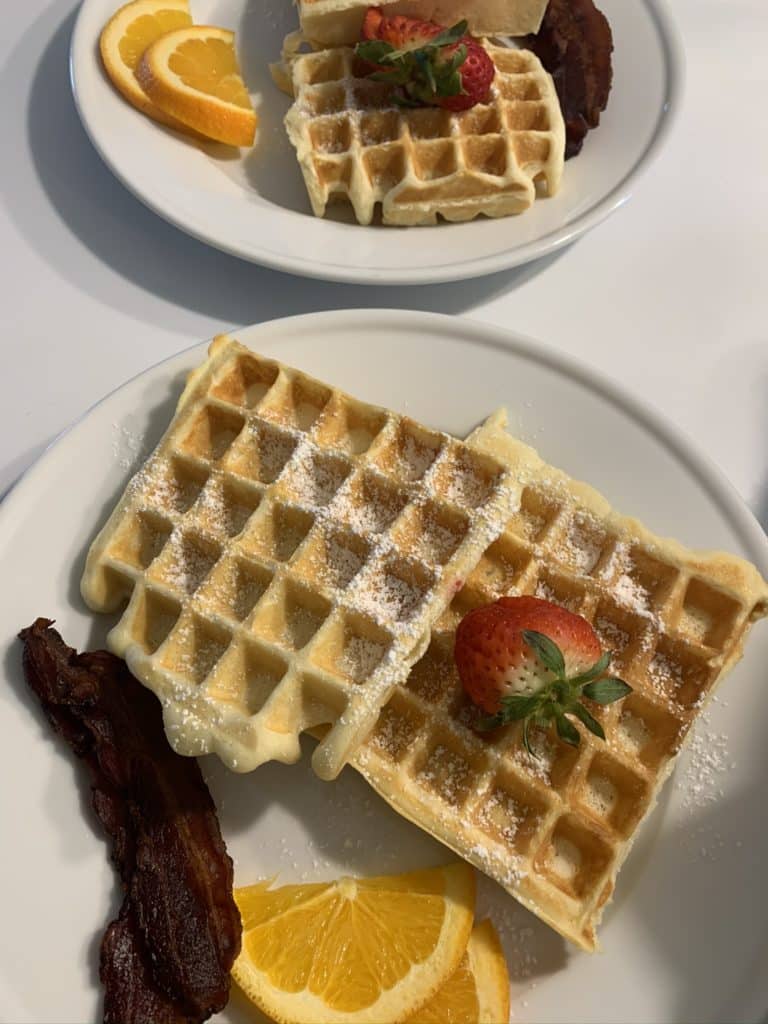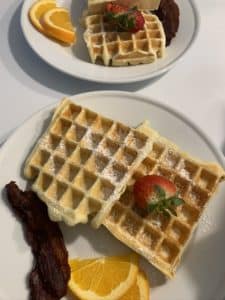 We purchased a Belgian Waffle iron at Williams Sonoma and it's always fun to make them. Of course we have to hear Jack's story that Belgian Waffles were introduced to the USA in 1964 at the New York World's Fair and how much he loved gong to the fair which was only a few miles from his home in Queens. So as not to annoy our guests, Jack is assigned to the griddle and is not allowed out to tell his story to unsuspecting guests.
Makes about 6 waffles – we serve two per guest
INGREDIENTS FOR WAFFLE MIXTURE
2 cups of (10 ounces) all-purpose flour (we use King Arthur Flour from Vermont)
1/2 cup dried buttermilk powder (ask your supermarket where to find it)
1 tablespoon sugar
3/4 teaspoon salt
1/2 teaspoon baking soda
1/2 cup sour cream
2 large eggs
1/4 teaspoon pure vanilla extract
1 1/4 cups seltzer
1/4 cup vegetable oil
INSTRUCTIONS
Preheat oven to 300 degrees F

(this is to crisp the waffles for a few minutes after they come off the iron)
Place a wire rack onto a rimmed cookie sheet
MIXING THE BATTER
In a large bowl mix whisk the following ingredients and set aside

Flour
Buttermilk powder
Sugar
Salt

In a medium bowl whisk the following wet ingredients

Sour cream
Eggs
Vanilla
Oil

Gently stir in the seltzer to the wet ingredients
Make a well in the dry ingredients – pour in the wet ingredients

Gently stir in with a rubber spatula

batter will be lumpy and should have a few streaks of dry mix
COOKING THE WAFFLE – Here's where the fun begins
Carefully follow the directions from the waffle maker – Then wing it
A few pointers

The iron has to be hot, so don't try to make waffles one after another
Close the iron after you remove waffles and let it heat up again

On ours a light turns green when its ready to pour in the batter

We use about 1/2 cup in each compartment (ours has 4)
We cook about 4 minutes using a timer

Don't forget to reset the timer after you pour in the batter
Watch for the steam to stop coming out of the iron

What to do when the steams continues to come out well after 4 minutes

Here's where winging it really comes into play ...
Use your judgement – record the time that gave good results
and 10 minutes is definitely far too long

Remove the waffles from the iron and place onto the wire rack in the oven to crisp them a bit (at 300 degrees two minutes should be enough)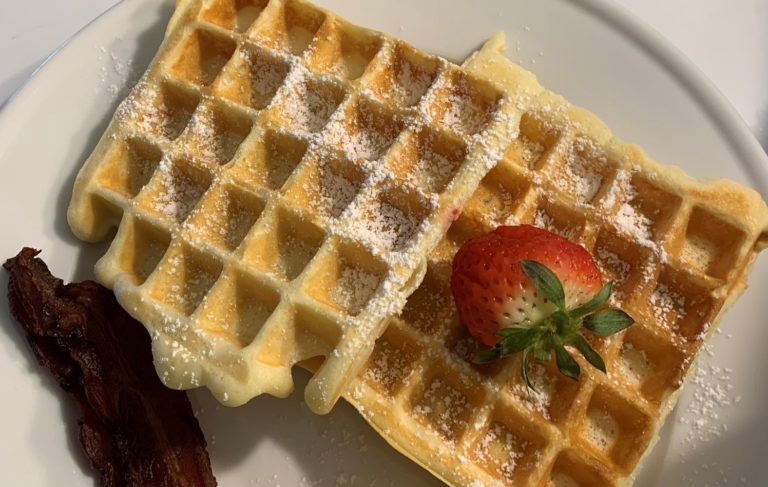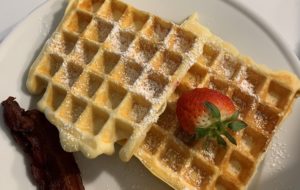 BREAKFAST AT THE INN
We serve breakfast between 8:30 and 9:30 and prepare the entrees individually as guests come down. So, when we do this fabulous bread pudding I let them know the night before the breakfast schedule. We serve a parfait consisting of blueberries and strawberries, yogurt (that's mixed with Vermont maple syrup, topped with the Inn's homemade granola before the breakfast entree.