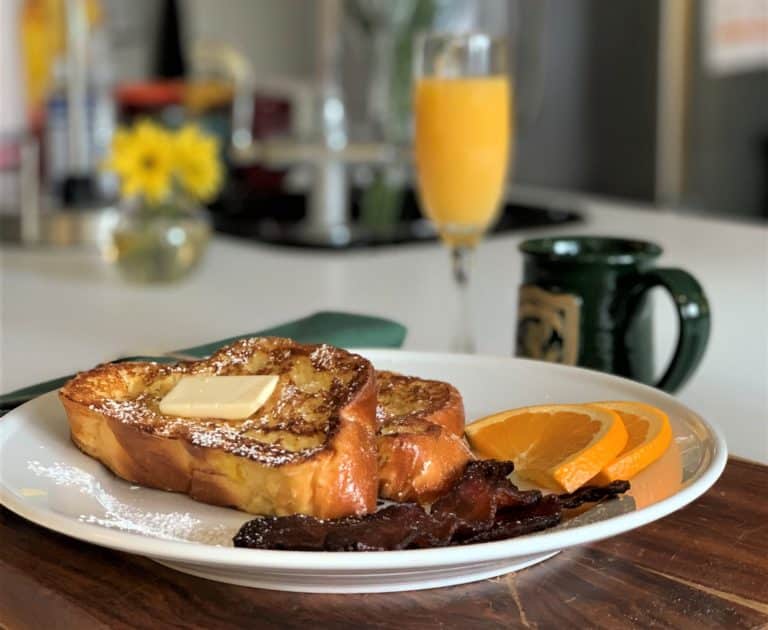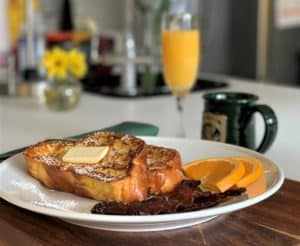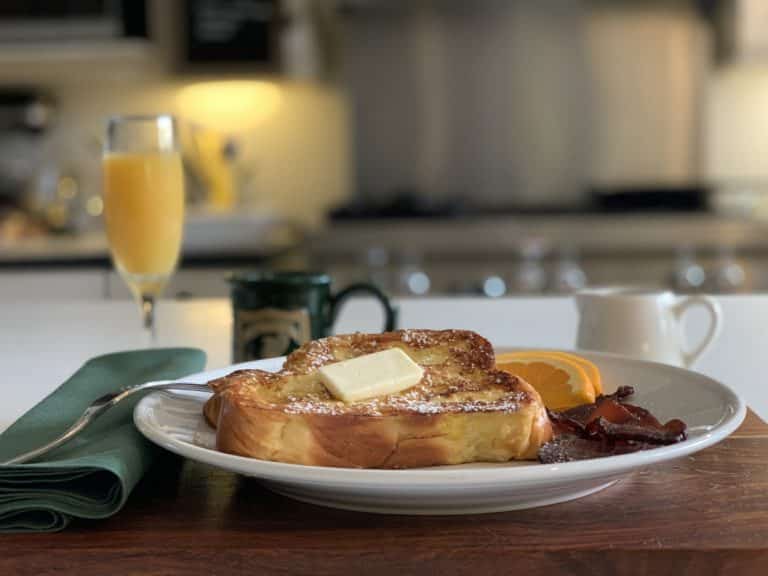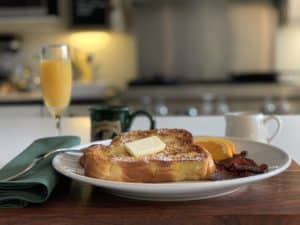 Serves 6 – 12 slices of Challah bread
Who hasn't tried to make French toast? Jack claims he was cooking it in 1st grade (although he admits that results varied … and still do.)
Leave the challah, or other bread (remember experimenting is fun) out for a day to make it a bit stale. Some recipes say you must use stale or frozen, but I have had no problem using fresh bread. Cut to 3/4 of an inch. Cook in equal amounts of oil and butter – butter helps it brown and the oil keeps it from smoking up while you cook.
Ingredients for the Custard
9 large eggs – beat lightly
2 1/4 cups of milk (half-and-half or milk (Lactaid, too)
1 1/2 teaspoons grated orange zest
3/4 teaspoons of pure vanilla extract
1 1/2 tablespoon honey
3/4 teaspoons salt
Custard 
In a large bowl whisk together the ingredients above
I pour the custard in to a shallow casserole pan and dip each piece for about 5 seconds and then turning over for another 5.
I cook on a cast iron grill and brush on the mixture of melted butter and oil
Cook for about 2 to 3 minutes on each side until golden brown
We serve immediately, but you can place the cooked French toast on a cookie sheet and keep warm in the oven and serve at one time.
Serving the French Toast
Top with confectionery sugar. Sometimes we add sliced bananas, sliced strawberries, or maple bourbon syrup. We always have Vermont maple syrup warmed and ready to pour.
Warning
If Jack is cooking, don't ask for the recipe…it varies!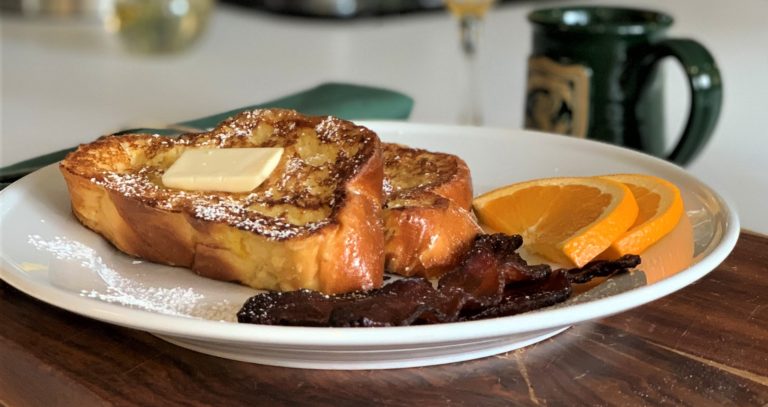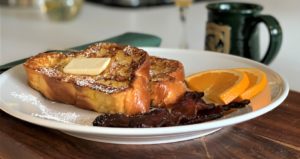 BREAKFAST AT THE INN
We serve breakfast between 8:30 and 9:30 and prepare the entrees individually as guests come down. So, when we do this fabulous bread pudding I let them know the night before the breakfast schedule. We serve a parfait consisting of blueberries and strawberries, yogurt (that's mixed with Vermont maple syrup, topped with the Inn's homemade granola before the breakfast entree.